2015 Tucson Holiday Events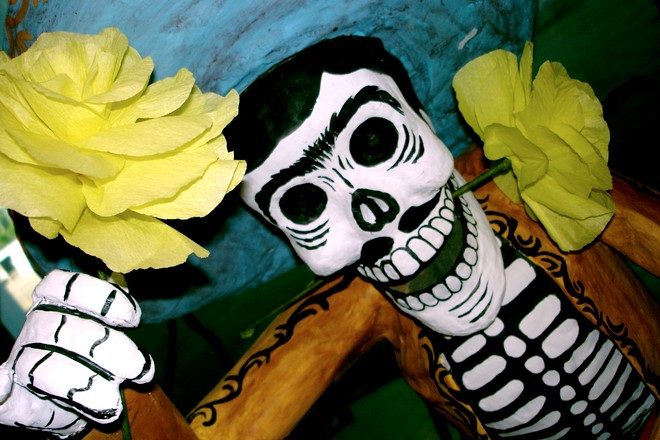 Whether you're looking to keep past traditions alive or making plans to visit relatives this Thanksgiving, there are plenty of Tucson holiday events to consider. Here are the top three to mark on your calendar this year.
Banda Calaca: Dia de los Muertos Altar
Website: https://www.tucsonmuseumofart.org/exhibitions/banda-calaca-installation-by-hank-tusinski/
When:
September 26, 2015 – January 3, 2016
Tues, Wed, Fri, Sat: 10:00 AM to 5:00 PM
Thurs: 10:00 AM to 8:00 PM
Sun: 12:00 PM to 5:00 PM
Where: Tucson Museum of Art and Historic Block (140 N. Main Ave. Tucson 85701)
Why: This limited-time exhibit features a mixed media installation—a memorial altar created by Tucson artist Hank Tusinski. The stunning artwork measures 12 feet high, 25 feet long, and 6 feet wide. Marvel at Tusinski's seven piece skeletal masterpiece which depicts a band marching toward a sun altar—representative of the Teotihuacan's cultural belief in the circle of life, death, and rebirth. The artist has been creating Dia de los Muertos artwork for 15 years, drawing heavily from first-hand experiences in Mexico and his deep appreciation of its indigenous cultures.
How: Purchase tickets online or by phone at 520-624-2333. Children 12 and under are free. $12 per adult; $10 per senior; $7 per student and young adult.
Holiday Artisans Market
Website: https://www.tucsonmuseumofart.org/events/artisans-market1/  
When: November 20 – 22, 2015
10:00 AM – 5:00 PM each day
Where: Tucson Museum of Art Courtyards (140 N. Main Ave. Tucson 85701)
Why: The Tucson Museum of Art hosts more than 100 of the Southwest's finest artists and artisans who display their works and wares. Let them help you find perfect holiday gifts or simply appreciate the local community as you window shop. The market kicks off the city's campaign to urge residents to "shop local" this holiday season. As you peruse the tents and tables, you'll enjoy live music, tasty local food, and children's activities. This is certainly one of the best family-friendly Tucson holiday events you'll find downtown.
How: Admission is free; all you have to do is show up and browse the best of Tucson's art, music, and food. Show up early for preferred street parking.
Steppin Out Live with Ben Vereen
Website: http://foxtucsontheatre.org/presents/steppin-out-live-with-ben-vereen-2/
When: November 28, 2015 at 7:30 PM
Where: The Fox Tucson Theatre (17 W. Congress St. Tucson 85701)
Why: Fox Tucson Theatre features Tony Award winner, Ben Vereen, highlighting the performer's unique artistry and paying tribute to Broadway and Frank Sinatra. Hailed by The New York Times as "a true song and dance man who never lets up," Vereen is sure to wow the crowd with his versatile performances of song, dance, storytelling, and humor. The entertainer was inducted into both The Theatre Hall of Fame and Dance Hall of Fame and has performed in front of a 100,000 person crowd in 2012. New York Daily News confirms, "Vereen blows onto the stage with a gale force ready to sweep the audience up, up and away."
How: Purchase tickets online or by calling 520-547-3040. Admission costs $29 – $82.
Don't miss these and other Tucson holiday events for lack of planning. Bookmark www.visittucson.org and choose an event or two for your next date night or family outing. The Tucson community and culture thrives with your support and there truly is something for the sports, art, food, and music buffs alike.