10 Best Restaurants for Lunch in Tucson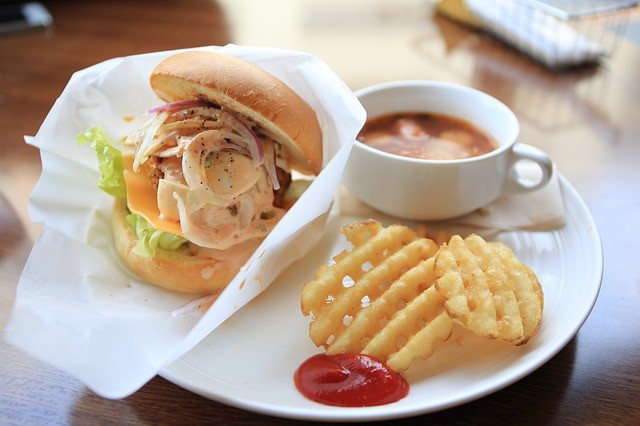 Tucson is no stranger to cultural diversity—from architecture to art and the most delicious food you'll find in the Southwest. No matter your craving, one of these top ten restaurants for lunch in Tucson is sure to appease your taste buds.
Harvest on River
www.harvestonriver.com
Price: $$
Neighborhood: Catalina Foothills
Cuisine: New American
Address: 5605 E River Rd
The newest spot to hit the Tucson foodie scene, Harvest on River focuses on locally sourced ingredients, from-scratch cooking, and one heck of a happy hour (late night and all day Sunday). Though it's only been open for a few months, the restaurant is already claiming fan favorites like the pulled pork and bread with cherry butter.
Zayna Mediterranean
www.zaynamediterranean.com
Price: $$
Neighborhood: Peter Howell
Cuisine: Mediterranean, Middle Eastern
Address: 4122 E Speedway Blvd
Enjoy no-nonsense Mediterranean in this modest restaurant that boasts over 200 Yelp reviews and a solid 4-star rating. Zayna caters to both meat lovers and vegetarians with traditional dishes such as hummus, chicken shawarma, falafel, beef gyro salads and sandwiches. If you're thirsty, try the Lebanese wine or Arabic coffee.
Agustin Kitchen
www.agustinkitchen.com
Price: $$
Neighborhood: Menlo Park
Cuisine: New American, French
Address: 100 S Avenida Del Convento Ste 150
Bloody Marys and Goat Cheese are the real winners of this West side gem, but don't neglect the oyster bar or a plate of pasta from their seasonal menu. Agustin Kitchen is trendy, friendly, and perfect for date night.
Graze Premium Burgers
www.grazepremiumburgers.com
Price: $$
Neighborhood: Blenman-Elm
Cuisine: American
Address: 2721 E Speedway Blvd
For the health-conscious crowd that still craves a good burger every now and then, Graze is the place. Organic, non-GMO, grass-fed beef, and free-range chicken are just a few of the themes you'll see on the menu. Don't forget to add some twice-fried crispy fries.
The B-Line
www.blinerestaurant.com
Price: $$
Neighborhood: West University
Cuisine: American, Mexican
Address: 621 N 4th Ave
This locally-owned bistro was featured on The Food Network and has been a Tucson favorite since 2002. Crepe cakes, burritos, tacos, pastas, and homemade pies—The B-Line is ready to serve you for breakfast, lunch, and dinner. If their long list of accolades doesn't impress you, the Mahi Mahi will.
Cafe A La Cart
www.cafealacarttucson.com
Price: $$
Neighborhood: El Presidio
Cuisine: New American
Address: 150 N Main Ave
A downtown "country-style" café open only for breakfast and lunch on Mondays and Tuesdays. Yelpers rave about the French fries and chocolate bomb dessert. Stick around for Happy Hour and dinner Wednesday through Sunday.
Kimchi Time
www.kimchi-time.com
Price: $$
Neighborhood: Broadmoor-Broadway Village
Cuisine: Korean
Address: 2900 E Broadway Blvd Ste 186
Kimchi Time is as authentic as you'll get if you're searching for affordable, delicious Korean food. It's a great place to take a Kimchi first-timer—just be sure to stick with the house favorites like pork bulgogi or bibim bap served in a hot stone bowl.
China Szechwan
chinaszechwan.weebly.com
Price: $$
Neighborhood: Richland Heights West
Cuisine: Szechuan
Address: 1800 E Fort Lowell Rd
It might not look like much from the outside, but regulars can't get enough of the crab puffs, twice cooked pork, and ginger chicken. Stop in for lunch or dinner and bring friends; sharing your dish is part of the experience.
Zinburger
www.zinburgeraz.com
Price: $$
Neighborhood: Catalina Foothills
Cuisine: New American
Address: 1865 E River Rd Ste 101
It might be a chain restaurant, but even the most critical food snobs won't be able to resist the Samburger with zucchini fries and a glass of red. It is a wine bar after all. Enjoy Tucson's beautiful weather and snag a seat on the cozy patio.
Yard House
www.yardhouse.com
Price: $$
Neighborhood: Park Place Mall
Cuisine: New American, Bar
Address: 5870 E Broadway Blvd Ste 440
Open until 1 a.m. on weekends, Yard House is perfect for late night eats and drinks; with so many of the latter you may have trouble deciding. With over 100 rotating taps, it's the perfect spot to bring beer lovers and skeptics.
With ten restaurants from which to choose, try something new on your next date night or family outing in Tucson.
##
The Residences at The Ritz-Carlton, Dove Mountain is an exclusive community featuring some of the most exquisite luxury homes in Tucson, Arizona. This luxury Dove Mountain real estate community includes expansive custom homesites as well as eight superb floor plans, giving you the opportunity to design your dream home. Management by The Ritz-Carlton provides the added touch of world-class service, with valets and concierges, and the option of cooks and housekeepers. Your Dove Mountain home will be a relaxing haven where you can unwind while we handle the details of housekeeping, yard work and exterior maintenance. For more information visit www.theresidencesdovemountain.com.